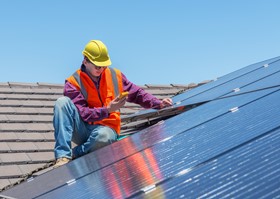 Solar is one of the fastest growing industries in the United States. Each year, hundreds of thousands of homes go solar, adding thousands of new jobs and preventing massive amounts of carbon dioxide from entering the atmosphere.
It has never been a better time to go solar. However, the rapid technological advancements and the growing market of solar power companies means that you have several options to consider if you're thinking about going green.
Types of residential solar power
The first thing to understand about solar power is that there are several different types you can get for your home. From roof-installed solar panels to off-site solar farms, you have options when it comes to powering your house cheaply and efficiently.
Leasing and purchasing PV panels
One of the most common ways that people power their home with solar power is by leasing rooftop photovoltaic (PV) panels from a solar company. There are different leasing options available from different companies, so it's a good idea to shop around the solar providers in your area.
Leasing is a great option for those who don't have the funds to purchase panels but still want to lower their monthly electricity bill. Companies who offer leasing often install and maintain the panels for free. The panels will be hooked up to your local energy grid. Each month, your electricity bill will be reduced by the amount that is produced by your panels. The way the solar company earns is by selling a portion of the solar produced back to the energy company and by collecting incentives from state and federal governments.  
Purchasing your panels outright has its advantages. When you purchase your own panels you can more greatly reduce or even eliminate your monthly utility bills without giving a cut back to the solar company. However, this also means you're responsible for the care and maintenance, and insurance of the panels.
Off-site solar
Many people would love to reduce their electricity bill and help reduce carbon emissions, but they just can't stand the look of solar panels on their roof. Fortunately, off-site solar farms are also growing in popularity. This type of solar power comes with all of the same benefits of rooftop solar except that it isn't located on your house.
Typically a vacant spot of land is used as a solar "farm." Community members can opt to lease or own a portion of the farm to contribute towards powering their home.
This option is particularly beneficial to those who lack roof-space, or who have a roof that doesn't receive an optimal amount of sunlight.
Emerging technologies
As I mentioned earlier, solar power is an industry that is rapidly changing. If you're not ready just yet to install solar panels or join a shared solar community, it's still a good idea to look ahead at emerging technologies.
One such example is Tesla's new solar roofs. The idea is that instead of installing panels, the roof itself comes with panels built-in. What's more, the roofs are said to last longer than traditional roofs, and they'll come in a variety of styles which mimic traditional shingles and comes in Tuscan, textured glass, and slate options.